And We're off Again!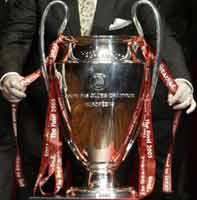 Yes! Just three days after the end of the World Cup, the new season has already begun! While decent teams in decent leagues are still on vacation, the long road to the Champions League final began last Wednesday with the first leg of the first qualifying round. The preliminary round of the UEFA Cup, to be defended this year by the fabulous Sevilla F.C. (
Vamos Mi Sevilla! Vamos Campeon!
) took place on Thursday.
(Note to hockey fans: your season sucks. What - two whole months between seasons? Bah! Football is truly year-round...its pan-hemispheric nature mewans there's always a game on, somewhere).
Of course, the teams that are playing at this stage of these competitions tend not to have any players at the World Cup anyway, so it's not as though people are going from one set of games straight to the other. Among Thursday's stellar matches were such mighty derbies as Orasje vs Domzale, and BATE vs. Nistru (for those of you who think you're football-savvy, see if you can figure out what countries each of those four clubs come from...answer at the bottom of today's post.)
Now, of course, for any team playing in the Champions League in July, the likelihood of still playing in the comptetition is zero. And I don't mean that as hyperbole - the number of teams who have ever made it to the competition proper, having entered the compeition at the first qualifying round is precisely
one
, and that was Liverpool who had to get in this way because competition organizers had to find some way to let them in, never having conceived that it would be possible for a team to simultaneously win Europe but finish fifth domestically. in an ordinary year - it's zero.
The reason for this is that UEFA has, over the years, tried to ensure that the Champions League proper is actually populated by good teams and isn't ruined by more than one or possibly two freak teams. It does this by having champions from crap nations (e.g. Cyprus, Lichtenstein, Latvia) wallop each other for the months of July and August, so they are good and tired by the time they get to the final qualifying round and have to play decent teams like Valencia or Arsenal.
Still, for big teams in eastern europe who don't get much domestic competition, like Latvia's Skonto Riga (who won every Latvian league competition from 1992 to 2004 before suffering a shock second-place finish last year to Liepajas Metalurgs), the early rouns of the Champions League are the highlight of the domestic season.
But for sheer pointlessness in a competition, it's hard to beat the Inter-toto Cup. The sole purpose of this competition was to have 50 mid-table teams from across Europe play five two-leg ties for the right to one of three spots in the UEFA Cup. If that sounds strange to you, it means you're paying attention: the Inter-toto Cup was designed not to produce a single winner but
three
winners. This gets better, though. As of this year, they have cut the number of rounds from five to three and are permitting
eleven
teams to qualify for UEFA. At which point you have to ask: why not just increase the size of the UEFA Cup? But that's probably too simple.
******************
Answer to today's brain-teaser: Orasje =Croatia; Domzale = Slovenia; BATE = Belarus; Nistru = Moldova.