Weekend Preview 30 Sept - 1 Oct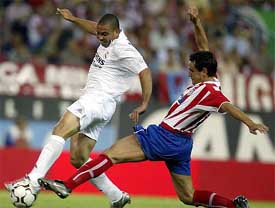 Looking forward to the weekend ahead:
In England, Arsenal seem likely to win their fifth match in succession when they take on Iain Dowie's underperforming Charlton side and ManU get a break from playing difficult teams like Reading when traditional patsy Newcastle United visit on Sunday. League-leading Chelsea's match against Martin O'Neill's phoenix-like Villa squad looks like the most interesting fixture of the weekend, though Bolton-Liverpool could be good value as well.
One team for which this weekend may represent a turning point is West Ham, who play the early fixture Sunday against Reading. Last year's decent league finish and brilliant cup run are just a memory now for the Expos of the East End. Dumped out of the UEFA cup by the clearly superior Palermo, it's back to the plain old English routine – and it's a routine to which their suspiciously-obtained Argentinian stars, Mascherano and Tevez, are having a great deal of difficulty adjusting. Tevez in particular has been awful – out of sync with his teammates and ineffective in front of goal. Coach Alan Pardew – a bystander rather than the architect of the Argentinian deals – is already starting to see some storm clouds forming. Even one more loss could bring out the Trevor Brooking chants at the Boleyn ground. Such unrest, combined with the shady take-over talks between the club's present owners, and a weird Anglo/Iranian/Russian/Israeli consortium rumoured to be lurking in the wings, could spell serious trouble for a team whose top flight status is by no means secure.
In Italy, Inter continue to suck in new and original ways. The neroazzuri have benefited from the relegation of Juventus, were spotted an eight-point lead over Milan, and essentially gifted a trio of extremely talented players in Vieira, Crespo and Ibrahimovic. And while they are hovering near the top of the league, they have looked seriously shaky at times and no one seriously thinks they will be top by Christmas, let alone May. Last week's 4-3 win over Chievo was an embarrassment, given that they led 4-0 into the 75th minute. This is not a team that projects confidence. Serial choker and runner-up Carlo Ancelotti (really – how does this guy still have a job?) should enjoy his underdog status while it lasts – despite their summer travails, AC have to be odds-on favourite to win this year's scudetto.
In France…oh, you know what, I can't be bothered. You can watch some great football week in and week out in this league (Allez les Verts!) but it doesn't make a damn bit of difference because Lyon have been champions for the last five years, they'll be champions again this year, and barring a Superga or a Munich, they'll be champions next year too. Marseille did well to make a show of competing for a couple of weeks, but Thursday's UEFA cup loss to Mlada Boleslav was downright embarassing. There, I've said it. I'm not wasting more time on a league that makes Scotland look unpredictable.
But the most interesting match of the weekend is almost certainly in Madrid, where the Real-Atletico derby is taking place. This derby has all of the class-based antagonisms of a Juve-Torino match, with large dollops of United-City fraternal hatred with an excellent dose of long-standing grievances about the richer sibling receiving favourable treatment from government and league officials alike. Atletico – a team which separated from Real nearly 100 years ago on account of the fact that Real was insufficiently Spanish (it has a substantial English tinge in its membership in the early years) – usually comes off the worse in these encounters.
Unquestionably, Atletico have improved in recent years as the stewardship of the deranged Jesus Gil becomes an ever-fainter memory. Hanging on to both Fernando Torres and Maxi Rodriguez – both of whom had stellar World Cups – represented excellent off-season business for the club.
The fact that they also managed to grab up-and-coming Argentinian wonder-kid Sergio Aguires is even better.
But it's unlikely that this squad is going to be able to beat a Real Madrid that - against Spanish opposition at least – seems built to grind out wins through sheer force.
The arrival of Diarra, Emerson and Cannavaro gives the team a hard spine it conspicuously lacked in the galactico era.
Minus Zidane, Real aren't pretty – but they aren't nearly as shaky as they used to be either and the gradual eclipse of Beckham and Ronaldo by Reyes and Robinho means that they are a lot speedier on the counter-attack, too.
Against an Atletico that only just managed to dispatch a nine-man Sevilla last week, Real should be good for a win at home. And, with Barca now confirming they have lost Samuel Eto'o to a knee injury until at least January and possibly as late as March, Real can now even be considered genuine title contenders - something unimaginable just four months ago.
Enjoy the weekend.